Nadal's Barcelona dozen as Barty and Berrettini brilliance lands silverware
It was an absorbing week of tennis with the King of Clay reasserting himself and the world No.1 celebrating her birthday in style.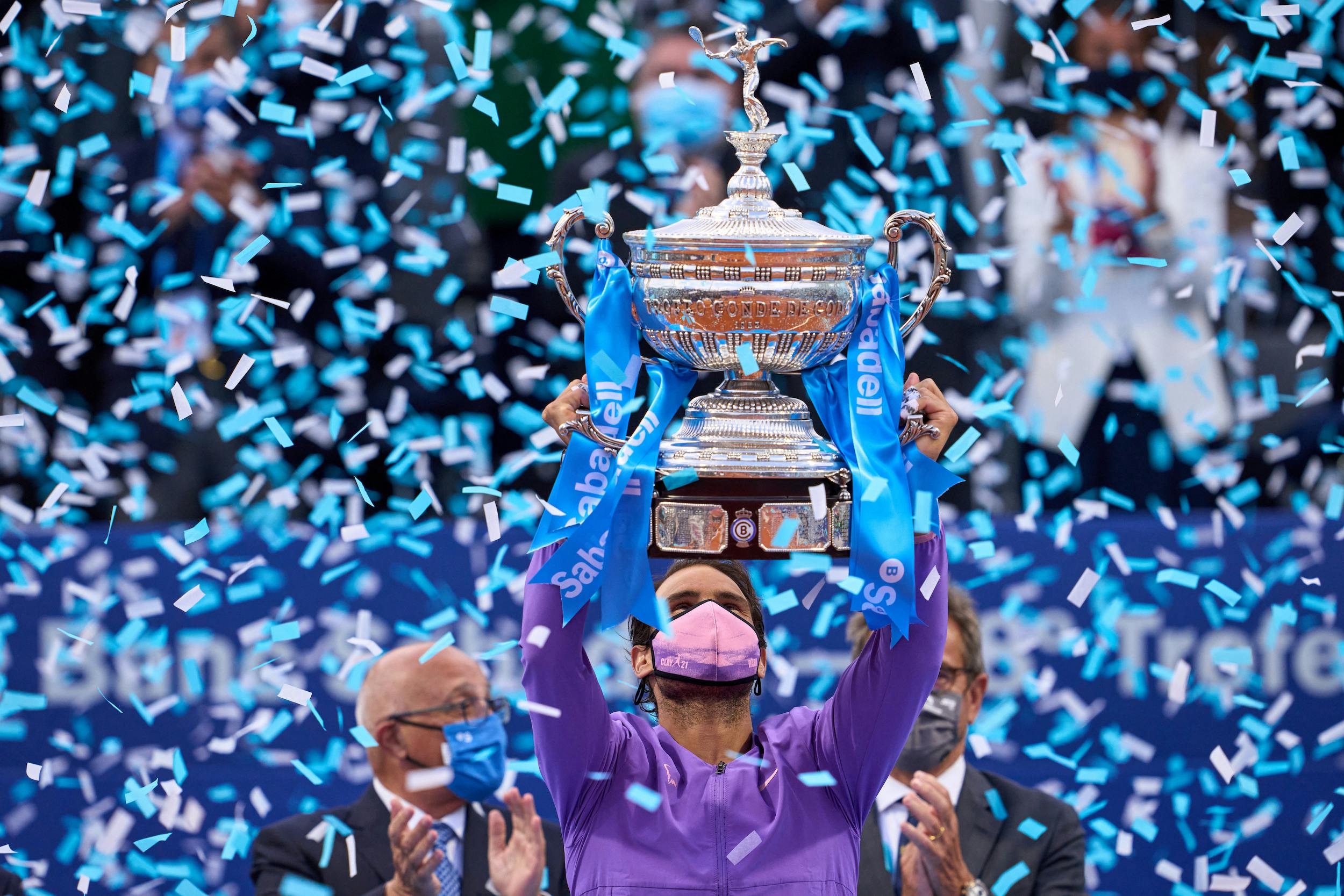 ©Alex Caparros / GETTY IMAGES EUROPE / Getty Images via AFP
From Barcelona to Belgrade to Stuttgart, the tennis world was treated to a trio of special events last week.
On Sunday, it was 16 years since the 20-time Grand Slam champion won his first Barcelona title in 2005 (the year of his first Roland-Garros crown too). In doing so, the 18-year-old rose into the Top 10 for the first time
On Sunday, April 25 again, the 13-time Roland-Garros winner lifted his 12th Barcelona title. The 34-year-old has remained in the Top 10 that whole time, 813 consecutive weeks, he is simply longevity personified.
Still defying inspired opponents, still reeling out insane hot shots, Nadal was pushed to the limit at Real Club de Tenis Barcelona-1899, before edging world No.5 Stefanos Tsitsipas 6-4, 6-7(6), 7-5 in a modern classic.
It was Nadal's first Barcelona triumph since 2018, defeating Tsitsipas in that final too, but the Greek has developed into a truly world class talent since then.
Tsitsipas was hailed champion at the recent Monte Carlo Masters and transferred that level to Barcelona, fending off two match points in the second set. Nadal was also forced to save championship point at 4-5 in the decider.
It was a scintillating contest, go and find the highlights!  
"I think I never played a final like this in this tournament, so it means a lot to me against a player like him, what he achieved in Monte-Carlo and he reached the final here without losing a set," said the Spaniard, back up to world No.2 on Monday.
"It is an important victory for me. I think I have been increasing my level during the whole week and this victory confirms it. That's important for today.
"Playing in my club and in front of fans means a lot… but at the same time for the future." 
The 34-year-old gained revenge for his heart-wrenching defeat to Tsitsipas at the Australian Open (from two sets up).
"He's a real competitor on the court. He hates to lose," Tsitsipas stated after their enthralling encounter. "He hates to lose more than anyone else."
Nadal is well and truly on the Road to Roland-Garros, but will be wary of Monte Carlo champion Tsitsipas' growing confidence and conviction on the red clay. 
Barty lands German double 
Similar to Nadal and Tsitsipas, world No.1 Ash Barty exemplified all her competitive qualities to hold aloft an 11th singles title on Sunday.
The 2019 Roland-Garros winner, toasting her birthday weekend in style, is well into the groove back on clay, taking home her second title on the surface at the Porsche Tennis Grand Prix.
Barty becomes the first reigning world No.1 to lift the Stuttgart title since Justine Henin in 2007 and also claimed the doubles trophy alongside Jennifer Brady. 
In singles action, Barty was forced to overcome a set deficit in three successive matches to outmanoeuvre world No.9 Karolina Pliskova, No.5 Elina Svitolina and then No.7 Aryna Sabalenka in the final.
The 3-6, 6-0, 6-3 comeback against the Belarusian earned the Australian's tour-leading third title of 2021, the top ranked player proving her worth in abundance with gritty performances. 
"This week's been phenomenal for me," said the 25-year-old. "We've played a lot of tennis, a lot of matches.
"I've certainly felt like I'm taking my tennis to kind of a new level, in a sense of being able to be calm and play with freedom and play without consequence in a way, just going out there and try to bring my best every single point."
Barty, champion in Miami too, has significantly won her last 10 matches against Top 10, a player thriving at trying to solve the puzzle against the very best. 
"Tennis is a strange sport at times," continued the world No.1. "Even though you can be a set down, I didn't feel I was very far off. 
"I think it's important to just continue to work in the right direction, try to do right things and know that over time you hopefully get the result, and if you don't, you just keep going for the next time, and I think that's a massively important attitude to have."
Berrettini embraces family affair
Italy's talisman Matteo Berrettini was thrilled to finally win a professional title (his fourth) in front of his family.
The world No.10 returned to firecracker form at the Serbia Open to outlast Aslan Karatsev 6-1, 3-6, 7-6(0) for the silverware in Belgrade.
"Play with heart, it will never let you down," the 25-year-old posted on Instagram, dedicating his latest career milestone to his loved ones. "That one is for my family. The first professional victory (title) of mine they have watched live. An honour to play in front of people who have sacrificed so much for me. I could never thank them enough."
Dubai champion Karatsev lit up Saturday with a marathon victory over world No.1 Novak Djokovic, but Berrettini just about overpowered the Russian, bouncing back from the disappointment of an early Monte Carlo exit. 
"Today I proved to myself that I can fight and I can digest tough situations," added the Italian. "I'm able to handle really tough moments. There are moments that all athletes in general have, but I really put myself in the struggle without any fear. I came back stronger... I'm a good player, but I think I'm a stronger person."