US Open: Fernandez belongs on the 'biggest stage'
Breaking new ground, teenager Leylah Fernandez and fellow Canadian Felix Auger-Aliassime have booked their US Open semi-final spots.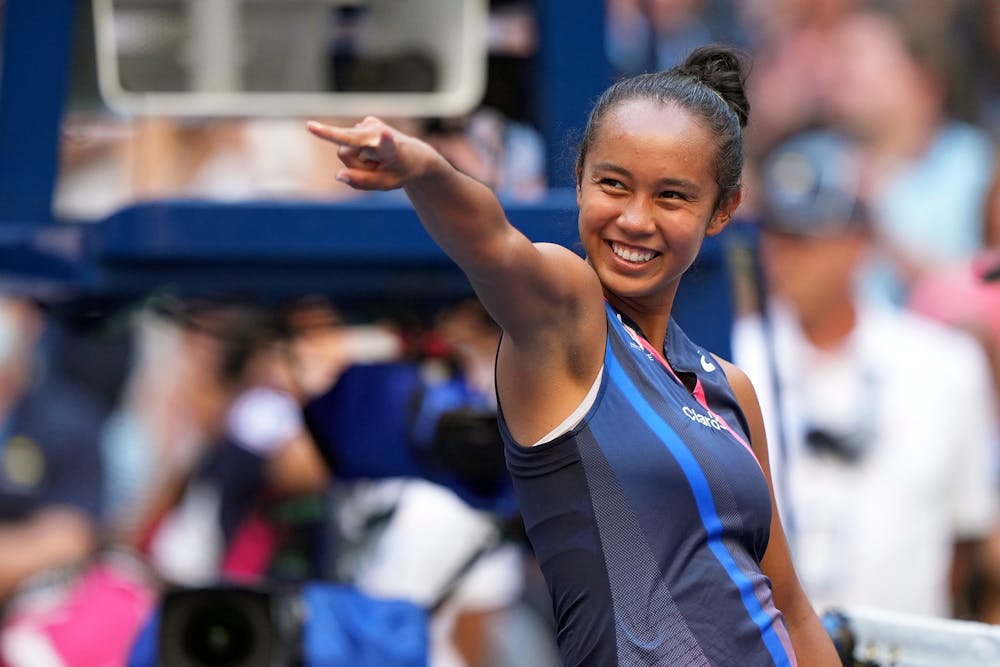 ©Darren Carroll / USTA
Back home in Florida, dad and coach Jorge Fernandez was watching on as his daughter continued a mesmerising US Open run.
"I called him right after the match when I went to the locker room. He honestly told me that I put him through hell and back with this match," chuckled Leylah Fernandez.
No wonder Jorge was suffering, 19-year-old Fernandez withstood a late surge from No.5 seed Elina Svitolina to book her first Grand Slam semi-final.
Svitolina erased 2-5 in the decider and levelled from 1-4 down in the tie-break, before Fernandez's courageous, instinctive and dynamic play clinched a thrilling 6-3, 3-6, 7-6(5) triumph.
"Today's match was definitely one of the hardest, not only tennis-wise but also mentally and emotionally," continued the Canadian, becoming the youngest US Open semi-finalist since an 18-year-old Maria Sharapova back in 2005.
The current world No.73 was intent on enjoying the memorable win, a day after her 19th birthday, but will be "back to work" to prepare to face No.2 seed Aryna Sabalenka.
"She's playing well, moving well. I would say it's nothing to lose for her. She's a great player. She's fighting for every point," stated Sabalenka.
"I was practising today, and we didn't really need to watch the score because we heard the crowd really yelling. Really looking forward for this match."
Fernandez portrayed glimpses of her promise with a maiden WTA title in Monterrey back in March. Afterwards the teenager wasn't posting the results she wanted, but was making the "sacrifices" off court, incrementally working harder and harder. It's paid dividends.
"I've always seen myself being in a big stadium"
Three set blockbuster victories over defending champion Naomi Osaka, three-time major winner Angelique Kerber and now Svitolina. Plenty are surprised at how well Fernandez has adapted to the major stage. Not Leylah.
"I think it's something from inside of me because from a very young age I've always wanted to be on the first court playing in front of parents," revealed the Canadian.  
"Even in school, apart from presentations in front of the class that I hated, but when I had to do a mini play, sing, dance, I would go out there, have fun. Over the years I've been learning how to use the crowd's energy."
Comfortable in the spotlight, the 2019 Roland-Garros girls's champion has frequently pictured herself in these primetime occasions. 
"Oh, yeah, I've imagined myself playing on every tournament, every Grand Slam, at the biggest stage. When I was younger, since I used Justine Henin as a great example, I would imagine myself playing against her. I would also imagine myself playing against Serena and Venus (Williams), and the past few years playing against Osaka in a big tournament," admitted Fernandez.
"I've always seen myself being in a big stadium in front of so many people and just having fun on the court."
Sabalenka seeking positive persona
You'd think you'd be content outplaying the reigning Roland-Garros champion Barbora Krejcikova 6-1, 6-4 to earn a first US Open final four ticket. Not Sabalenka.
The Belarusian returned to the practice courts straight after her Arthur Ashe Stadium visit.
"I was trying to find the rhythm, I needed these extra balls today."
The mark of a champion, who has now replicated her Wimbledon semi-final showing.
"Second (Grand Slam) semi-final, amazing. I'm really proud of myself and I'm really proud of my team that they always working, they always trying to find things where I can improve," continued the 23-year-old, twisting potential negatives into positives.
"This is a huge improvement. During the match I'm not really focusing on the problems. I'm focusing on what should I do to win this match. I'm not really panicking or stressing about it. I'm just trying to stay smart and professional."
Smart and professional Sabalenka versus fearless Fernandez!
FAA shooting for the final
Unfortunately, a right abductor halted Carlos Alcaraz's magical US Open, with Felix Auger-Aliassime advancing 6-3, 3-1 after the Spanish prodigy was forced to retire.
Auger-Aliassime is the youngest men's US Open semi-finalist since Juan Martin del Potro went onto win the title in 2009. A nice omen to have.
"I never thought a day like this would come. Both a little girl and a little boy from Montreal, both at the same time in the semi-finals of the US Open. It's special," hailed the world No.15, buoyed be Fernandez's success. "It's great. But it would be amazing if we were both in a final, right?"
The 21-year-old has been steadily building towards this level. An intriguing facet has been Toni Nadal joining his corner in December 2020.
"I think the big thing overall is the belief and the confidence that he brings to myself and everybody involved in my team," mused an ambitious Auger-Aliassime, reflecting on his major best thus far.
"I've gotten impatient sometimes this year, last year. I had I think losses that I was disappointed with either in Grand Slams or in Masters. I think I just learned to accept them, to keep my self-belief high, to keep working well, and things would come.
"I'm happy that on a stage like this, the US Open, to be performing the way I'm performing. At the same time I'm still in the tournament, so that's the best part, is that it's not over. I hope to do more."
Medvedev in the groove
It's almost routine now, world No.2 Daniil Medvedev clicking through the gears through the Grand Slam gauntlet.
The ruthless Russian fired 13 aces and 36 winners overall to overcome Dutch qualfiier Botic van de Zandschulp 6-3, 6-0, 4-6, 7-5 for a third successive semi-final at Flushing Meadows.
2019 US Open finalist Medvedev is expecting a "huge fire" facing Auger-Aliassime, but also pointed to his previous successes.
"For him it's going to be a first semis of a slam. You know, experience is not everything, because, for example, when I was in my first semis of a slam, I won it," said the 25-year-old.
"I like that I have this experience. I know how is it. I'm not gonna be tight. After, it's a question about tennis. If I play good, it's going to be not easy for my opponent. That's the most important thing."