As it happened: June 10
Follow along as we bring you updates from around the grounds at Roland-Garros 2023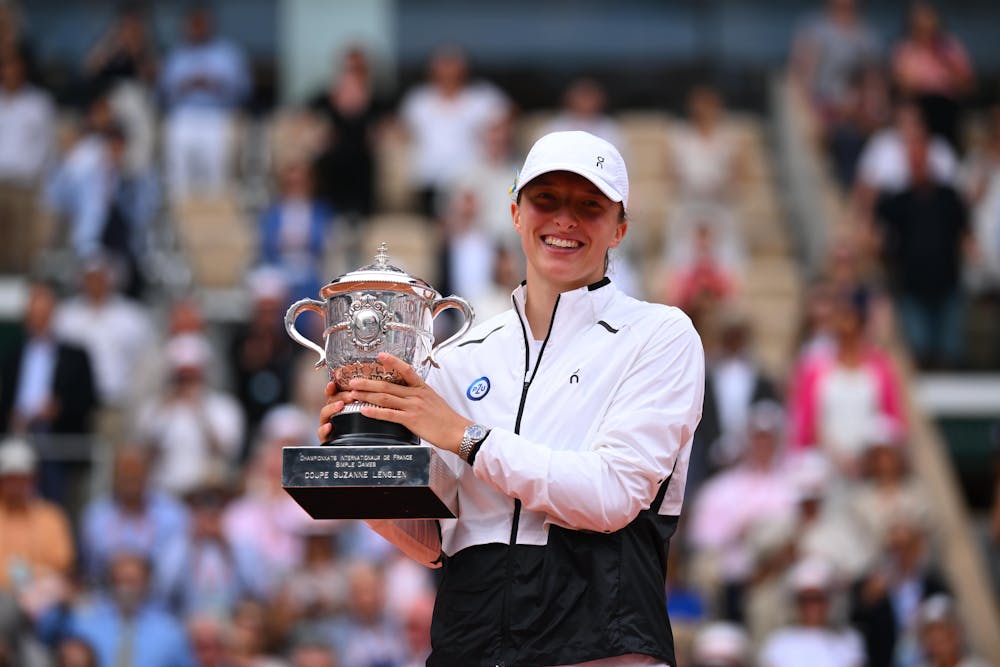 ©Corinne Dubreuil / FFT
8:39pm Redemption for Dodig and Krajicek
They lost in last year's men's doubles final here in Paris after holding three match points and today they are the Roland-Garros champions -- Ivan Dodig and Austin Krajicek were not to be denied again as they eased to a 6-3, 6-1 victory over Belgian duo Sander Gille and Joran Vliegen.
The win also sees the 32-year-old Krajicek rise to the doubles world No.1 spot for the first time in his career.
Swiatek receives trophy from legendary Chris Evert
"First of all congrats to Karolina. Even since we first played, I knew we would play these kind of finals," says Swiatek, who faced Muchova four years ago in a tournament in Prague when they were both barely in the top 100.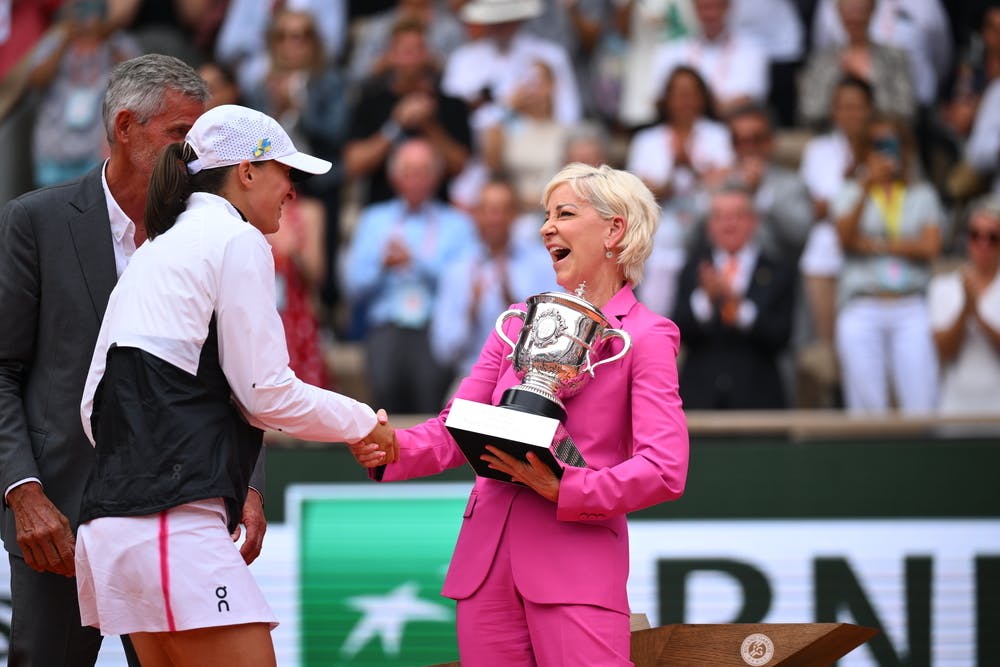 © Corinne Dubreuil/FFT
Standing ovation for Muchova
The crowd chants Muchova's name as she fights tears trying to say a few words in the trophy ceremony.
"I'll try to keep it short because it's a bit emotional. This is incredible, thank you everyone. It's been amazing three weeks for me and for my team. This was so close, yet so far, but that's what happens when you face someone as incredible as Iga," said the Czech.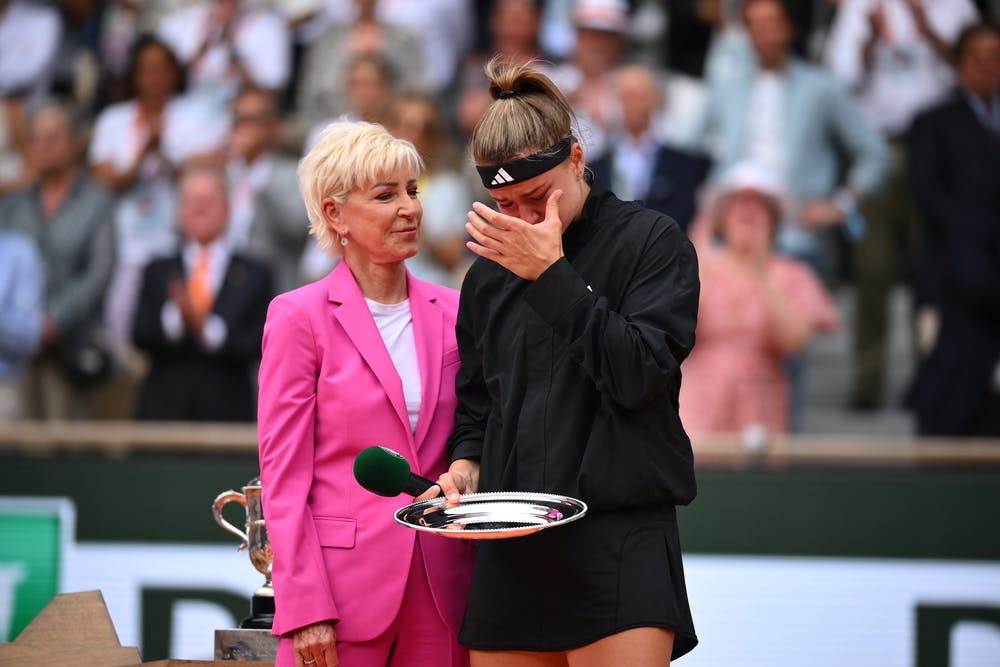 © Corinne Dubreuil/FFT
5:59pm Swiatek clinches a third RG title
World No.1 Iga Swiatek has captured a second consecutive Roland-Garros title, a third in Paris, and fourth Grand Slam crown overall with a hard-fought 6-2, 5-7, 6-4 victory over a gritty Karolina Muchova.
Muchova fought back from 2-6, 0-3 down to make this an incredibly close final but it was the 22-year-old Swiatek who eked out the win in the end.
5:48pm Swiatek hits back
It's an 11th break of serve of the match; Muchova saved two break points but faltered on the third as Swiatek levels once against for 4-4.
5:39pm Muchova breaks
Just when you think Swiatek has regained some control, Muchova gets a break of serve to inch ahead 4-3. We're approaching the 2h 30min mark for this final.
5:27pm Swiatek retaliates
We're back on serve at 2-2 as Swiatek steadies the ship and breaks Muchova back.
5:22pm Muchova starts decider with a break
The momentum is clearly on Muchova's side as she breaks at love in the first game of the deciding set and is currently serving at 2-1 against Swiatek.
Swiatek is an impressive 13-4 overall in singles finals, will Muchova put another dent in that record today?
Juniors update: American duo capture girls' doubles title
5:08pm Muchova takes the second set
From 2-6, 0-3 down, Muchova has climbed her way back and has taken the 68-minute second set 7-5 to level the final against Swiatek and force a decider. Going three on Chatrier and the crowd is loving it!
4:58pm Swiatek drops serve again
A third consecutive game goes against serve as Muchova breaks Swiatek to inch ahead 6-5. She couldn't serve out the set the first time. Will her second attempt go better?
4:53pm Iga breaks back
Muchova can't serve out the set as Swiatek breaks right back to level for 5-all.
4:47pm Muchova breaks and will serve for second set
Muchova has rallied back from 0-3 down and has just broken for 5-4 to put herself in the position to serve for the second set and possibly force a decider against Swiatek.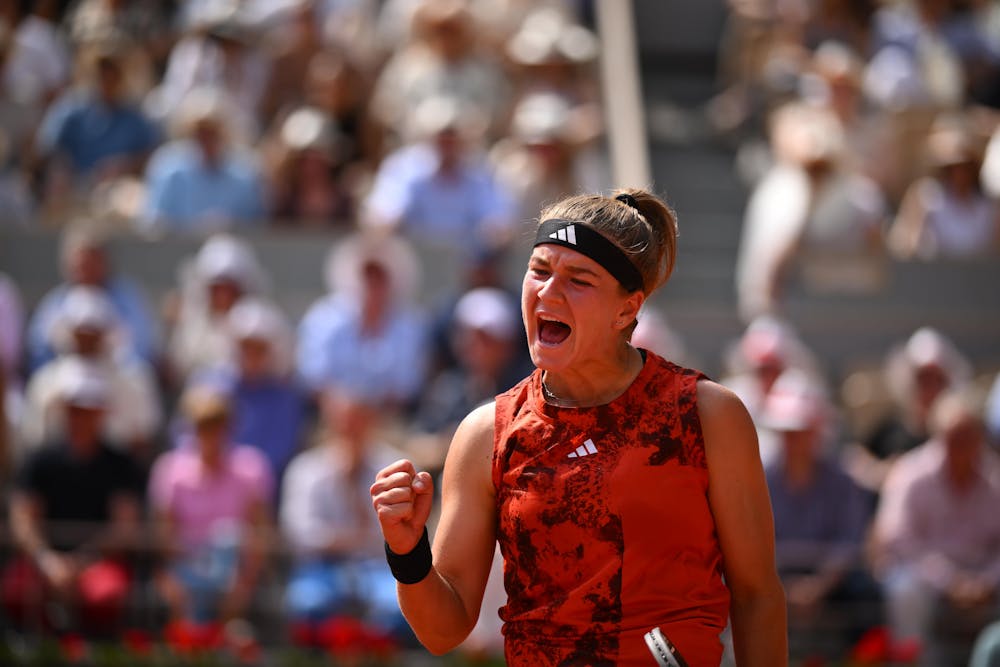 ©Corinne Dubreuil / FFT
3:56pm Business mode from Swiatek
Two-time Roland-Garros champion Swiatek has taken the opening set 6-2 in 45 minutes against Muchova.
The Polish world No.1 won 74 per cent of her first-serve points throughout that set.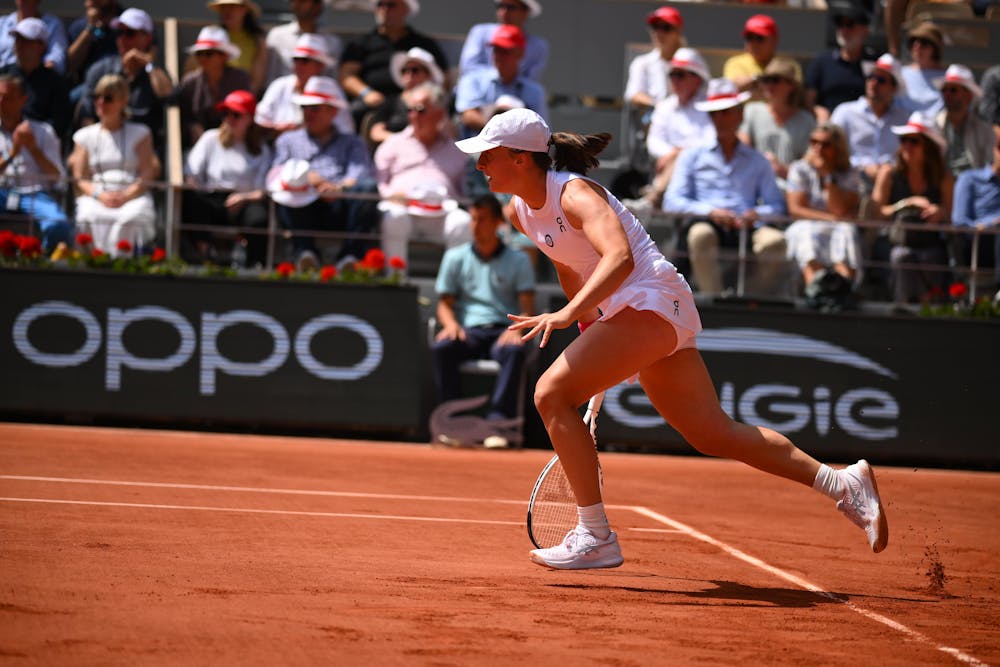 ©Corinne Dubreuil / FFT
Juniors update: Prizmic wins boys' title
No.3 seed Dino Prizmic has become the first Croatian to win the boys' singles title at Roland-Garros since Marin Cilic in 2005 with a 6-1, 6-4 victory over Juan Carlos Prado Angelo.
3:20pm Iga breaks
Swiatek has broken Muchova in the Czech's first service game for a 2-0 advantage.
Muchova has won their only previous meeting, in Prague back in 2019. At the time, Muchova (who needed a wildcard to enter the tournament) was ranked No.109 while Swiatek, who reached main draw via qualifying, was ranked No.95.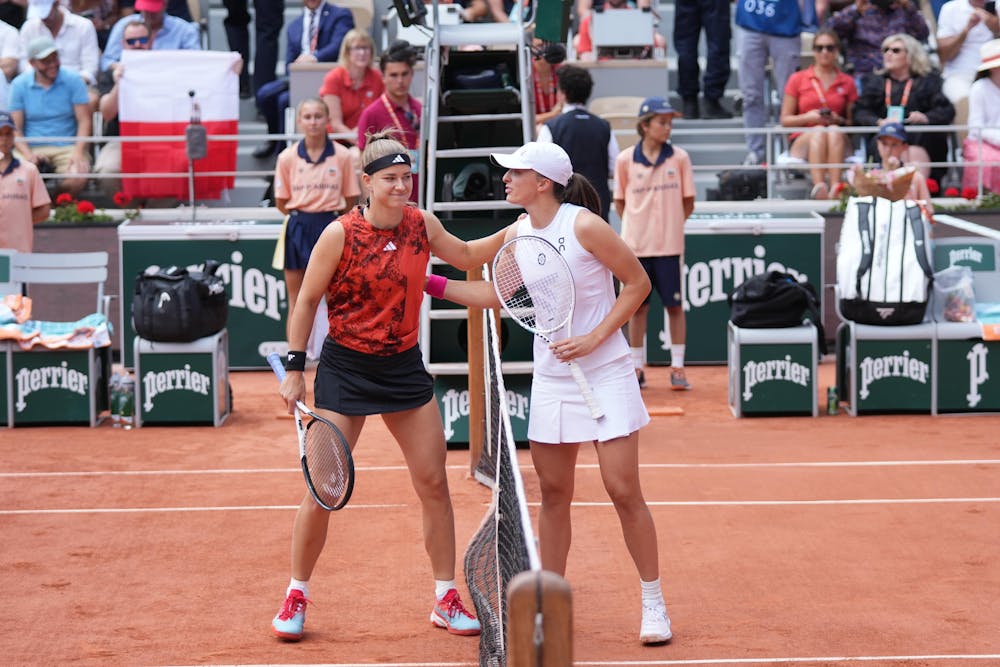 ©Cédric Lecocq / FFT
3:03pm Time for Swiatek v Muchova
World No.1 Iga Swiatek is gunning for a third Roland-Garros title - second in a row - and a fourth Grand Slam trophy overall today against Karolina Muchova, who is chasing her first major silverware.
The players have just stepped on court and the final will kick off in a few minutes.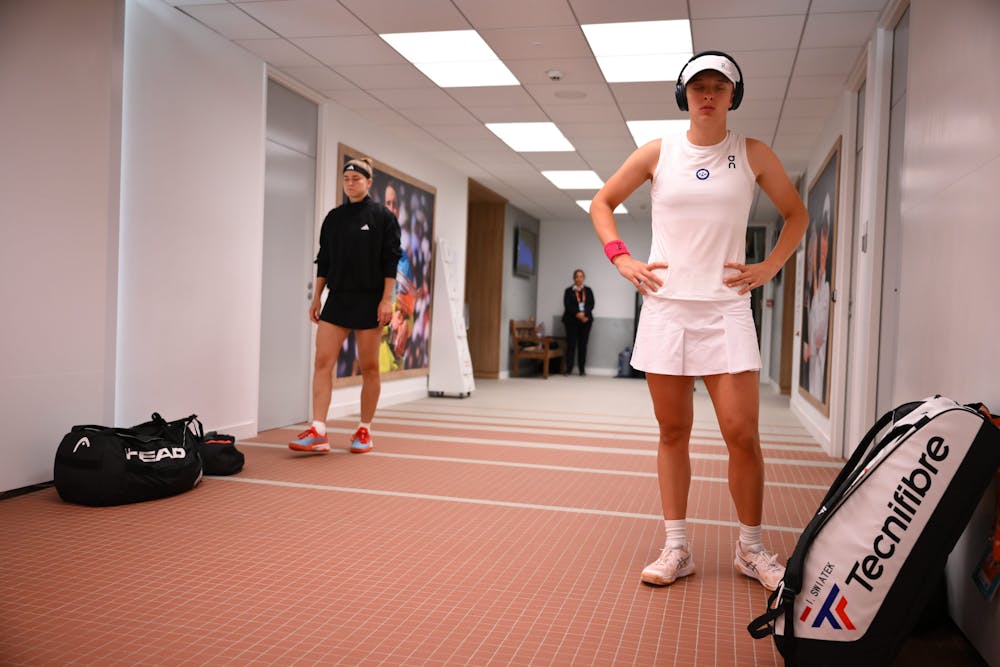 © Corinne Dubreuil/FFT
1:00pm Korneeva goes back-to-back
No.3 seed Alina Korneeva has clinched a second consecutive Grand Slam girls' singles title with a 7-6(4), 6-3 victory over Peruvian Lucciana Perez Alarcon.
The 15-year-old Korneeva is the first player to win two Grand Slam girls' singles titles in a season since 2013, when Ana Konjuh won both the Australian Open and the US Open and Belinda Bencic triumphed at Roland-Garros and Wimbledon.
She is also the first player to win the girls' singles titles at the opening two Grand Slams of the year since Magdalena Maleeva in 1990.
Korneeva will be back on court shortly for the girls' doubles final alongside Sarah Saito against Tyra Caterina Grant and Clervie Ngounoue.
Meanwhile in boys' doubles, Yaroslav Demin and Rodrigo Pacheco Mendez secured the Roland-Garros title with a 6-2, 6-3 result against Italian pair Lorenzo Sciahbasi and Gabriele Vulpitta.
12:43pm Oda does it!
Japan's 17-year-old Tokito Oda has defeated top seed Alfie Hewett 6-1, 6-4 to win a first Grand Slam singles title and dethrone the Brit as the new world No.1.
At 17 years 35 days, Oda will become the youngest men's wheelchair singles world No.1 in history on Monday – claiming the record from Hewett, who became world No.1 for the first time aged 20 years 54 days in January 2018.
© Nicolas Gouhier/FFT
12:25pm Another trophy for Diede
A special tournament for Diede de Groot, in which she recorded a 100th consecutive match-win, is capped with a title triumph over familiar foe Yui Kamiji in women's wheelchair singles.
The Dutch world No.1 defeated the second-seeded Kamiji 6-2, 6-0 in a 61-minute final today on Court 14 to clinch an 18th Grand Slam singles title, 10th in a row, third straight at Roland-Garros and fourth on Parisian clay overall.
De Groot and Kamiji will square off in the doubles final later this afternoon, alongside their respective partners Maria Florencia Moreno and Kgothatso Montjane.