Wozniacki waves an emotional goodbye
Dane leaves sport with no regrets after glittering career.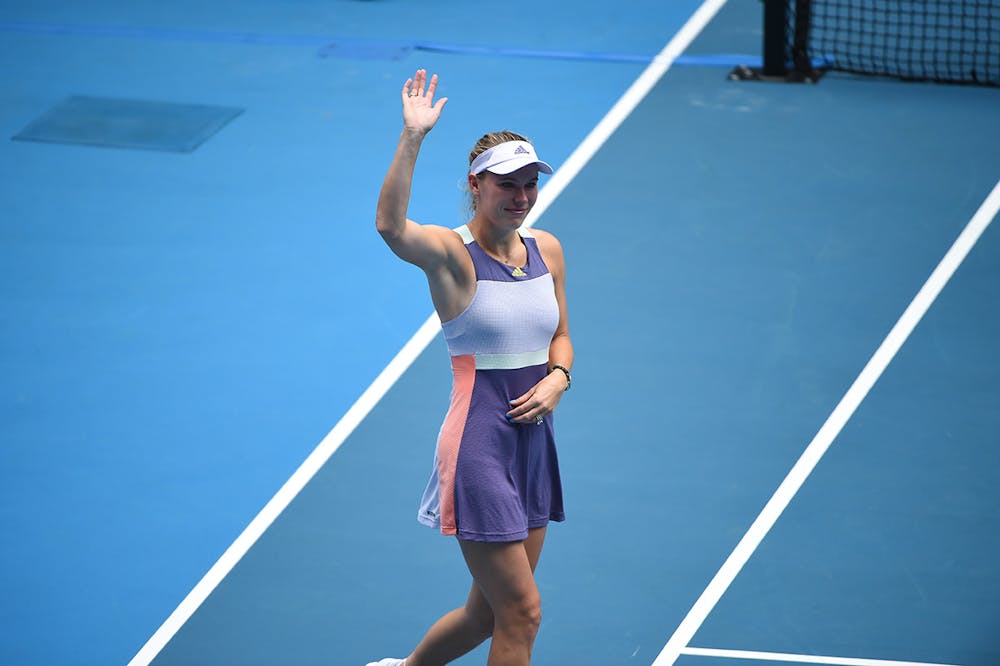 As Caroline Wozniacki's father, Piotr, lifted his daughter high in the air, the realisation began to sink in.
After more than 14 years on Tour a career in which she won one Grand Slam title, 29 other tournaments and twice finished the year as world No 1, the 29-year-old Dane said goodbye to professional tennis.
Her 7-5, 3-6, 7-5 defeat by Ons Jabeur of Tunisia ended her hopes of one last hurrah in the third round of the Australian Open on Friday but Wozniacki will head into retirement with no regrets, happy that she did everything she could to get the best out of her game.
Her mother, Anna, and her brother, Patrik, were in tears as they greeted her on court at the end of the match and Wozniacki said only then did it begin to sink in. "I'm not a big crier, but I think when the family came down, I saw my dad pacing (around) - that's what he does when he tries not to get emotional - then my mum was bawling, she had sunglasses on, my brother was shaking, I think that caught me, I got emotional," she said, tears never far away from her eyes. "Obviously looking at David (Lee, her husband) just smiling, crying, being excited all at once, I think it was just a very special moment. I just tried to take it all in. It's probably going to be a moment I will never forget."
"The perfect moment"
As she has done throughout her career, Wozniacki fought hard, gave it her all and nearly extended her stay. Jabeur led 3-0 in the third set before Wozniacki hit back but the Tunisian held her nerve to make history herself by becoming the first Arab woman to reach the last 16 of a slam.
The result may not have been what she wanted but Wozniacki said she could not have asked for a better send-off.
"I think you never know how you're going to react or what's going to happen until the last ball is hit," Wozniacki said. "I think what happened today was perfect. It was a packed stadium. People stood up. There was 'Sweet Caroline' through the microphones. People were clapping. I had the Danish flag at my back. I had my family there. I had people closest to me were all here or watching on TV and supporting me. I don't think I could have scripted it any better. I think it was the perfect moment."
Having turned professional in 2005, Wozniacki won at least one title every year for 11 years from 2008 to 2018, a testament to her consistency and longevity in such a demanding sport.
"Lot of emotions at the same time"
Always hard to beat and rock solid from the baseline, she never gave up. Having topped the world rankings at the end of 2011 and 2012, Wozniacki was often criticised for not winning a Grand Slam title, but in 2018, she proved everybody wrong when she won the Australian Open, beating Simona Halep in a brilliant final.
But, as she listened to tributes from her fellow players played out in a video on Melbourne Arena, Wozniacki also will have realised how much she was loved and admired by her peers, all of whom stressed her fighting qualities and how great a person she is.
"I think the result today doesn't matter to me as much as the way that I fought, that I gave it everything," Wozniacki said. "I wanted to be out there. I did everything. I think that shows how my career, throughout my career, that's what I'm known for."
"It's exciting. It's terrifying. It's a lot of emotions at the same time. But I'm happy. I'm very happy. Even though I was crying a lot earlier, it really wasn't sad tears. I think just happy tears. It's a lot to have the family here with me, too. It means a lot."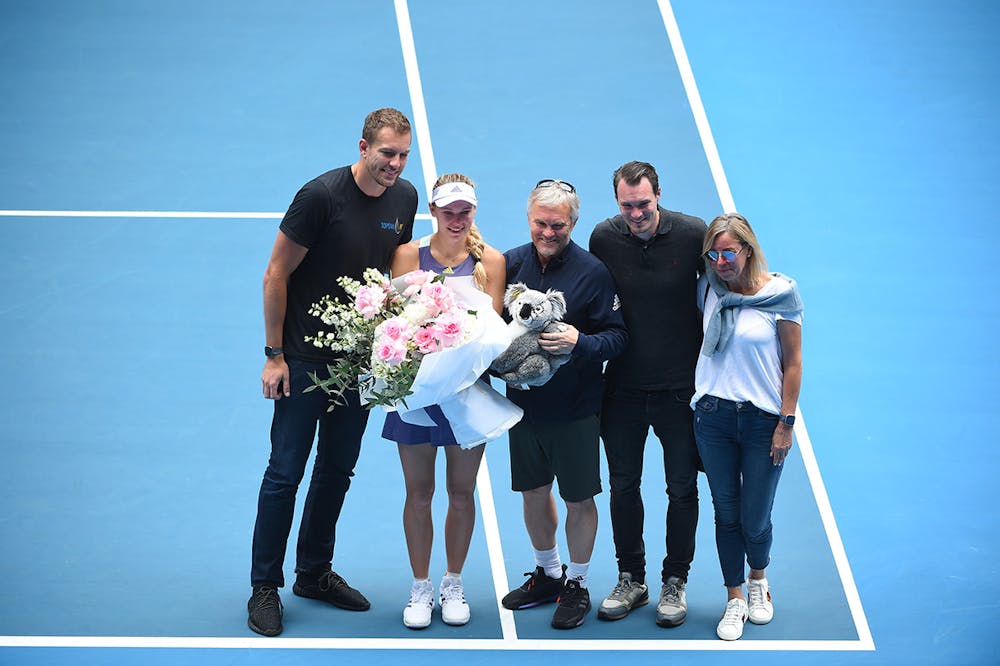 When Wozniacki announced in December that the Australian Open would be her last tournament, she said her diagnosis, in the summer of 2018, that she was suffering from rheumatoid arthritis, had not been a factor in her decision. But Wozniacki hopes she can continue to be a role model for other people who sufferer from the autoimmune disease, which can cause joint pain and inflammation across the body.
At 29, she is still relatively young but Wozniacki, who says she is looking forward to starting a family in the future, says she does not believe she will come back at any stage. After almost a decade and a half on the Tour, Wozniacki leaves it content that she could not have done any more, having achieved her dreams of winning a Grand Slam title and becoming world No 1.
"I hope that I'll give inspiration even to the players from small countries that may have never had a world No. 1 or a Grand Slam champion, someone in the top 10, that they can do it," she said. "(And) I hope that I'll leave some happiness around the locker room. It's a very tough environment. It's a hard environment. It's an individual sport. Everyone wants to be the best. I hope that I gave some excitement and release and some happiness in the locker room with the chats and the fun talks we've had."
"It's been amazing, it was a great ride. I really am happy but I'm ready for the next chapter."