'Movie star' Djokovic re-writing the history books
The world No.1 joined Roger Federer and Rafael Nadal on 20 Grand Slam titles after proving his recent dominance in the Wimbledon final.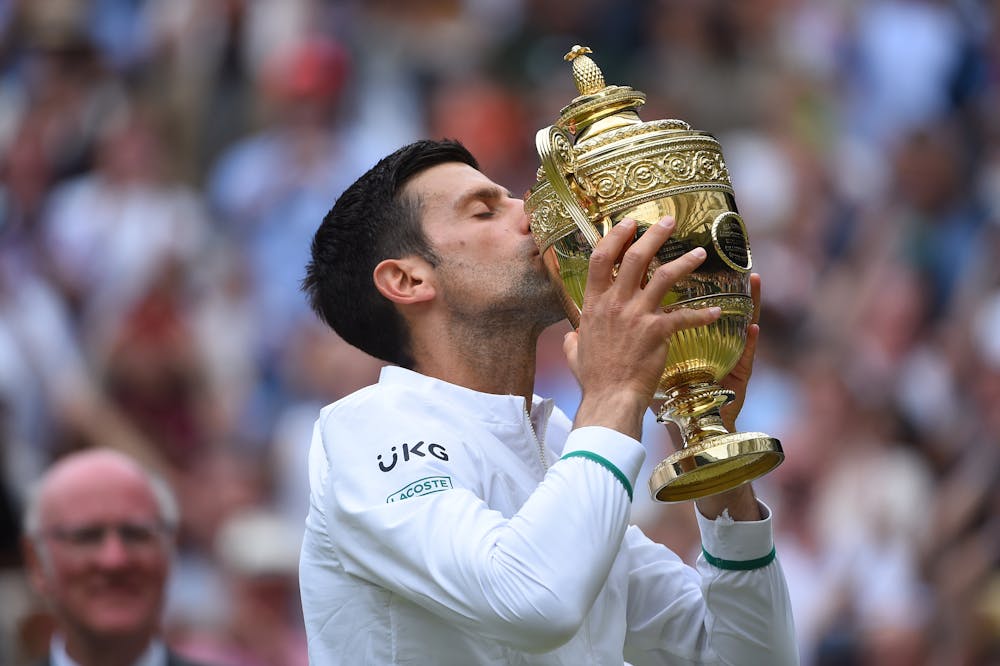 ©Corinne Dubreuil / FFT
Modern sport is swamped in stats and analysis, but for Novak Djokovic only one number matters at the moment, 20.
The world No.1 has dowsed fuel on the 'greatest of all time' debate by lifting his sixth Wimbledon crown (third in a row), joining his 'big three' rivals Roger Federer and Rafael Nadal on 20 Grand Slams at the peak of the men's all-time leaderboard. 
Take it back to Wimbledon 2011, the Serbian was hailed Wimbledon champion for the first time. At that point Federer was on 16 majors, Nadal 10 and Djokovic moving onto three.
His joint coach Goran Ivanisevic, 20 years on from his wild card title run at the All England Club, hailed his charge's heroics. 
"He's like in the movies. You have to kill the guy 27 times and still he gets up and you have to kill him again and he gets up, he gets up," joked the Croatian, insisting Djokovic is in prime position to win the US Open and in doing so a Calendar Grand Slam. "The guy is unbeatable at the moment."
On Sunday the two-time defending champion put in a gladiatorial effort once again, defeating Matteo Berrettini 6-7(4), 6-4, 6-4, 6-3 for his third Grand Slam of the season.
"The way he neutralized my weapons, my serve and my forehand. The way he covers the court, it's unbelievable. It's something that I never experienced," mused the Italian, explaining what makes Djokovic the current best. "He's the only player that makes me feel like this."
"Not stopping here"
Astonishingly there are still more chapters in the 'big three' trilogy. 
"It means none of us three will stop," noted Djokovic on Centre Court, moments after his 21st successive win at SW19. 
"I have to make a great tribute to Rafa and Roger, they are legends of our sport and the two most important players I ever faced in my career.
"They are the reason why I am where I am today. They showed me what I needed to do to get stronger, physically, tactically and mentally. Over the last 10 years it has been an incredible journey that's not stopping here."
So how does Djokovic, following his 30th major final, feel Federer and Nadal have forced him to evolve?
"All areas. I felt like from 15 years ago to today the journey that I've been through has been very rewarding for every segment of my game and also my mental strength, the experience, understanding of how to cope with the pressure in the big moments, how to be a clutch player when it matters the most. That's probably, if I have to pick one, the one that I would point out as the highlight of my improvement in my assets that I have in the last 15 years on the tour. Just the ability to cope with pressure."
Back to the record books and it was only in recent campaigns that the Roland-Garros 2021 champion realised he could reel in Federer and Nadal. 
"I probably started thinking about trying to reach the record of most Grand Slams won, most weeks at No. 1 historically, probably about two to three years ago. Before that it seemed a little bit out of reach," suggested the 34-year-old, who broke Federer's men's record of 310 weeks as a world No.1 back in March. 
"I know I have a very complete game that has proven to be successful on all surfaces in the past. It's really fortunate for me and incredible that it's all coming together in the same year. That's something that I didn't expect, but I always dream of achieving the biggest things in sport."
Next goal : Calendar Golden Slam
Three down, two to go. Djokovic inches closer to the 'Calendar Golden Slam,' a feat only Steffi Graf has achieved in 1988. The Serbian would need a maiden Olympics gold medal at Tokyo (he's only "50/50" on going due to Covid restrictions) and then the US Open title. 
It's completely mind-boggling, but it seems possible right now. 
"I could definitely envisage that happening and I hope I will give it a shot," stated Djokovic, the first man to clinch the first three Grand Slams of the season since Rod Laver in 1969.
With Tokyo participation in the balance, the Calendar Grand Slam will definitely be on the agenda in New York. So too will the 'greatest of all time' debate. 
"I consider myself best and I believe that I am the best, otherwise I wouldn't be talking confidently about winning slams and making history. But whether I'm the greatest of all time or not, I leave that debate to other people," added a diplomatic Djokovic. 
"I said before that it's very difficult to compare the eras of tennis. We have different rackets, technology, balls, courts. It's just completely different conditions that we're playing in, so it's very hard to compare tennis, say, from 50 years ago to today. But I am extremely honoured to definitely be part of the conversation."
Tokyo or New York, this movie will be well worth watching.