Serena Williams announces "evolution away from tennis"
The 23-time Grand Slam champion will soon be retiring from professional tennis, calling time on her Hall of Fame career.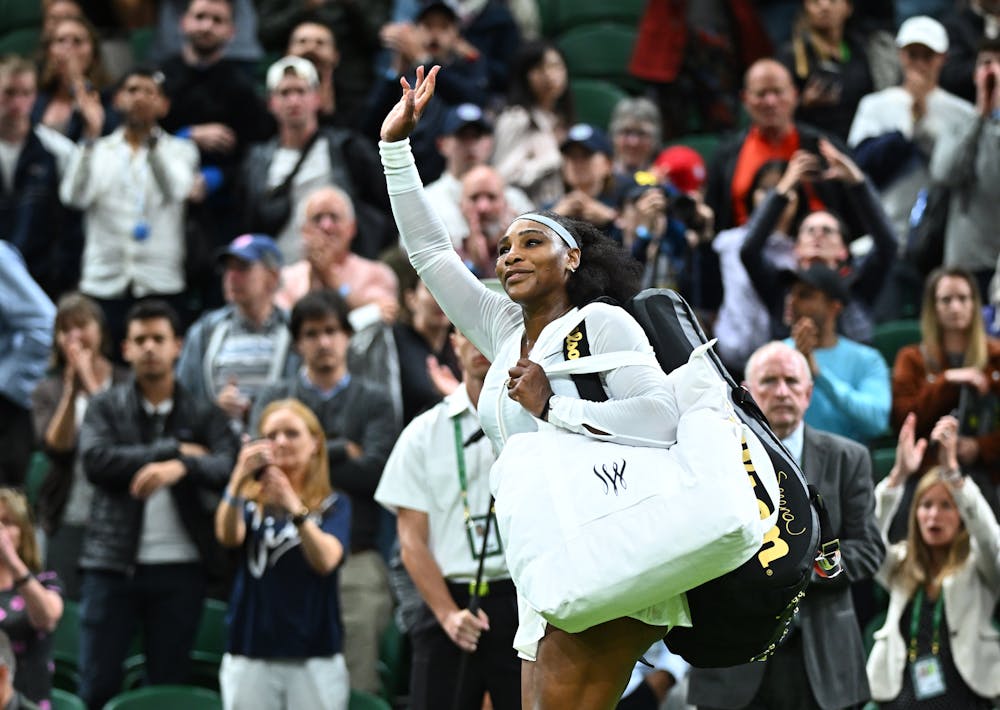 ©Corinne Dubreuil / FFT
Williams shared a link to her first-person essay with Vogue magazine, the 23-time Grand Slam champion's hall of fame career is drawing to a close.
"Reluctant" to admit it, the "taboo" topic in the Serena household is now out in the open, the 40-year-old revealed it's time to move on from playing professional tennis.
"There is no happiness in this topic for me. I know it's not the usual thing to say, but I feel a great deal of pain," the American told Vogue. "It's the hardest thing that I could ever imagine. I hate it. I hate that I have to be at this crossroads. I'm torn: I don't want it to be over, but at the same time I'm ready for what's next."
Family, Serena was two months pregnant with daughter Olympia when she won her most recent Grand Slam at Australian Open 2017, and business interests with 'Serena Ventures' are what's next.
"I'm turning 41 this month, and something's got to give… I definitely don't want to be pregnant again as an athlete. I need to be two feet into tennis or two feet out," insisted the 73-time titlist.
"I have never liked the word retirement. It doesn't feel like a modern word to me. Maybe the best word to describe what I'm up to is evolution. I'm here to tell you that I'm evolving away from tennis, toward other things that are important to me."
On court Serena has always been defined by, "Expecting the best from myself and proving people wrong."
Well, just like her 'Big Three' counterparts on the men's side, Williams' impact, longevity and success has sparkled across decades and generations, ever since turning pro in 1995, yes, 27 years ago! 
The stats are mind boggling, including 319 total weeks at world No.1, four Olympic gold medals and those 23 major singles trophies.
It's been quite the journey.
"My whole life, up to now, has been tennis. My dad says I first picked up a racket when I was three, but I think it was even earlier. There's a picture of Venus pushing me in a stroller on a tennis court, and I couldn't have been more than 18 months," recalled the current world No.407.
"The end of a story that started in Compton, California, with a little Black girl who just wanted to play tennis. This sport has given me so much. I love to win. I love the battle. I love to entertain. I'm not sure every player sees it that way, but I love the performance aspect of it - to be able to entertain people week after week."
Sprinkling in her archetypal defiance, Serena admits her frustration at not surpassing Margaret Court's pre - Open Era haul of 24 majors.
"I'd be lying if I said I didn't want that record. Obviously I do. But day to day, I'm really not thinking about her," continued the all-star American, who was defeated in her last four Grand Slam silverware showdowns.
"If I'm in a Grand Slam final, then yes, I am thinking about that record. Maybe I thought about it too much, and that didn't help. The way I see it, I should have had 30-plus Grand Slams. I had my chances after coming back from giving birth.
"Shoulda, woulda, coulda. I didn't show up the way I should have or could have. But I showed up 23 times, and that's fine. Actually it's extraordinary. But these days, if I have to choose between building my tennis resume and building my family, I choose the latter."
Following recent advice from her friend Tiger Woods, Williams is giving it all one last roll of the dice, with the US Open appearing as the likely and fitting finale.
If Serena's first match in Toronto is anything to go by, which conjured up a first victory in 430 days, we're in for some compelling last performances.
"Unfortunately I wasn't ready to win Wimbledon this year. And I don't know if I will be ready to win New York. But I'm going to try," suggested the tennis icon.
"But I'm not looking for some ceremonial, final on-court moment. I'm terrible at goodbyes, the world's worst."
The title of Vogue piece includes "Farewell to Tennis On Her Own Terms." After all the sustained success, inspiration, impact, injuries, setbacks and entertainment, Serena certainly deserves just that. 
Let's enjoy the final part of the Serena show.