Maestra Muguruza caps "best year" at WTA Finals
Garbiñe Muguruza became the first Spaniard to take home the WTA Finals singles silverware after a lights out week in Latin America.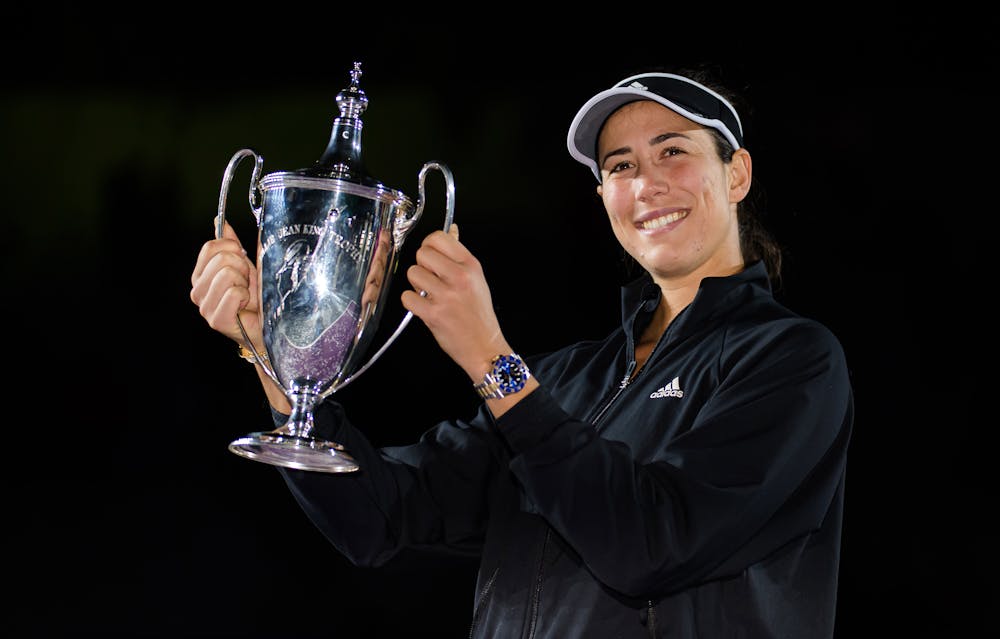 ©Jimmie 48 Tennis Photography
Teacher, master, the best, however you translate 'maestra,' Garbiñe Muguruza is well and truly back in the upper echelons of tennis.
The two-time Grand Slam champion captured her 10th career title on Wednesday, lifting the prestigious WTA Finals title in Guadalajara, Mexico.
Barely anybody has been able to defeat Anett Kontaveit in the past few months, but Muguruza prevailed 6-4, 6-4 in the round robin to end the Estonian's 12-match winning streak and then a couple days later edged to this significant silverware 6-3, 7-5 in the final. 
Falling to the court in tears, this meant a lot to Muguruza.
The depth of the WTA makes it incredibly tough to pick up one title, but the former world No.1 has capped an impressive campaign, including titles in Chicago and Dubai, with her biggest moment since Grand Slam glory in 2016/17. There was an element of defiance this week, out to prove some doubters wrong.
"Overall I think it's the best year for me. I might not have won a Grand Slam, but I deeply feel like I've been happier and more stable, less dramatic, and in general very happy about it," said the ecstatic newly crowned world No.3. 
"This trophy, like right now here, these are the best feelings. Not even the ranking. Just to actually touch this and I take it home, it's in the story, it's in my curriculum. It's the way of, like, 'I did it.'
"The last couple of years, I didn't play the same way I played before. But I didn't play a bad tennis, either. I was just here, there, not going into the deep rounds at Grand Slams that made the difference. I always felt I had the tennis. I was just not putting the battle together."
Mexican feel good factor fires up Muguruza
A battling Muguruza has been in inspired form all week in Mexico, feeding off the electric and ardent Latin America support, whilst also recalling memories of trophy triumphs from Monterrey in 2018-19.
It seemed to give the 28-year-old an extra edge and she rewarded her fans with a stunning show in the final to become the first Spanish singles champion at the WTA Finals. 
At 5-3, a point of defensive perfection was finished with a back-pedalling backhand lob, which even took Muguruza by surprise as it dropped in. That was the opener in the bag. 
3-5 down in the second set, the variety remained, the surges to the net continued as trust in her striking never wilted. A forehand bullet down the line erased the break deficit and having rattled through the last four games, Muguruza was now champion.
"Right now, I feel extremely happy and relieved because it's a tournament that I've struggled at the beginning, then I managed to play well," stated Muguruza, who lost her opener to Karolina Pliskova, before a quartet of head-turning wins. 
"I think I'm staying composed a little bit now because it means really a lot to me to win such a big, big, big tournament, the WTA Finals in Latin America, here in Mexico. I think it's just perfect.
"I really felt supported from the first moment. Every time I came to Mexico, not necessarily where I am right now Garbiñe, when I was 'nobody Garbiñe', I also felt the support… That's why I was so emotional at the end."
Due to her major success at a young age, it's remarkable Muguruza is only 28-years-old. Coach Conchita Martinez is doing a stellar job and will look to keep the ball rolling into 2022. What about Melbourne? Muguruza has eight hard court titles and was also an Australian Open finalist as recently as 2020. 
Any talk of contenders will have to include Garbiñe. 
"I'm just very happy I proved to myself once again I can be the best, I can be the 'maestra,' like how we say in Spanish," mused Muguruza. 
"That puts me in a very good position for next year, a good ranking... It's just the payoff for such a long year. My team and I worked hard. It pays off. Just shows us that we're doing the right way."