Day 6 Diary: Benoit the 'monster'
All the best quotes, stats and more from a memorable Day 6 at Roland-Garros.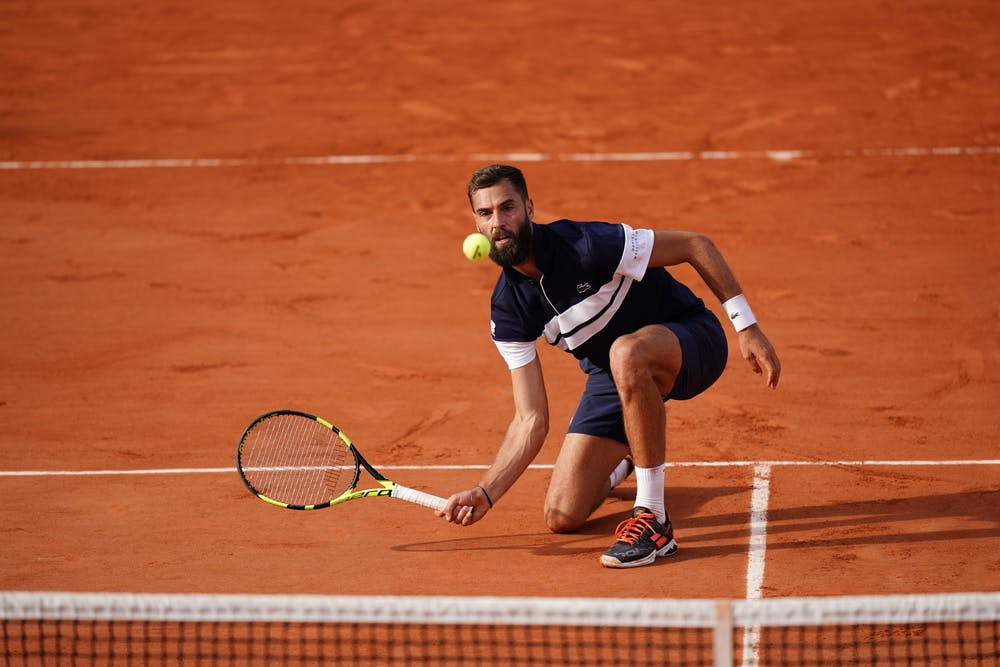 ©Nicolas Gouhier / FFT
"I feel good. I feel fit and I want to surf that wave." 
Benoit Paire is on a roll.
Propelled back into the top 40 off the back of clay titles in Marrakech and Lyon on the road to Roland-Garros, the Frenchman is basking in his finest showing at his home major. 
The world No.38 is into the fourth round, where he'll take on Japan's seventh seed Kei Nishikori.
"I'm the first one to be surprised," admitted Paire, seeking his maiden Grand Slam quarter-final. "I worked a lot this winter physically. I played soccer a lot. I also trained.
"Stan (Wawrinka) came to see me earlier, and he said, 'You're a monster physically.' And it's not true. The thing is the more matches I play, the better I feel. While if I fight in a match, I lose in the first round and I have to play again the next week, I lose some of my impetus and I'm not able to play properly." 
The gregarious home charge is also competing in the men's doubles and mixed event, but the 30-year-old is more than content to contend in a commanding triple schedule.
Paire has teamed up with veteran doubles champion Leander Paes in 2019 and they launched into the second round on Friday 6-4, 6-4 facing Martin Klizan and Dominic Inglot. 
"He's very old (smiling). He is 46. So he has a lot of experience. Me I tried to play doubles with him this year, but it's not easy to play with a good player like this, because I want to do my best," Paire stated, having teamed up with Paes since chatting in Pune back in January.
"Physically, I feel good, honestly. Doubles is not like singles. I want to progress with my volley, with my serves, so I think it's important to play good in doubles. That's why I said to him, 'Okay, perfect'. It's more like taking the doubles like an exercise to relax or to decompress."
Stayin' Alive

Anastasija Sevastova fends off 🖐️ match points to craft a thrilling 6-7(3) 6-4 11-9 win over Elise Mertens in 3 hours and 18 minutes.#RG19 pic.twitter.com/p2o2ou7GA3

— Roland-Garros (@rolandgarros) May 31, 2019
Comeback of the day
No.12 seed Anastasija Sevastova saved a miraculous five match points to outlast Elise Mertens 6-7(3), 6-4, 11-9.
"I didn't want the match to end because it was so fun," the Latvian told British Eurosport.
Laugh of the day
On TV commentary John McEnroe waxed lyrical about Roger Federer's supreme showing to saunter past Capser Ruud.
Remarkably there was a queue for the media seats to catch a glimpse of the 2009 champion in action on Court Suzanne-Lenglen. Also, those eagle-eyed would have caught South African rugby legend Bryan Habana suited up to see the Swiss maestro close up.
Well, Federer quipped back with this cracking tweet.
And in case you were wondering whether Federer controls the keys to his phone, his 12.5 million Twitter followers were reassured by the 20-time Grand Slam champion.
I'm not crying, you're crying
Nicolas Mahut's adventures at Roland-Garros came to a close on the magnificent Court Simonne-Mathieu. Argentina's Leonardo Mayer halted the 37-year-old's route at the third hurdle. 
Mahut, probably competing in his final singles campaign at Roland-Garros, was reduced to tears as he left the court holding hands with his young son.
Well Mayer (like everyone in the stands) struggled to hold back the tears too.
Stats of the day
6 – consecutive years that 2016 champion Garbine Muguruza has navigated herself into the second week of Roland-Garros.
14 – WTA Tour leading clay-court victories (14-2) in 2019 for Petra Martic.
58 – nationalities of opponents that Federer has defeated within his Grand Slam career. Zimbabwe (1-0) are the only nation with a winning record courtesy of Byron Black's 6-3, 6-0 scoreline at Queen's Club, London, in 1999.
400 – The milestone of Grand Slam matches reached by Roger Federer, the first man or woman to do so, who wielded his racquet in a straight-sets win over Casper Ruud.
1991 – Federer (37 years and 305 days) became the oldest man to reach a major fourth round since Jimmy Connors (39 years and 6 days) at the US Open 28 years ago.
Quotes of the day
"I don't know if Roland Garros has special relationship with me, but I have it with Roland Garros. I really love this tournament. I love this surface. I really feel great here."
-- Petra Martic and her affection for the French Open.
"I can see why he's going to be good in the future. He's got a great attitude, very calm, very quiet, maybe very Norwegian, I'm not sure. But it's nice to see that he's very focused, he's got good energy. Even though he is maybe more on the calm side, also very fair, and no grunting and all that stuff. It's just nice to play against a guy like that, to be quite honest."
-- Federer praising the persona and application of Next Gen Norwegian Ruud.  
"I think the main mental problem yesterday was that I had a birthday, and I'm now 30, and I had so many things in my head that I would say it was one of the worst days of my life. I thought I will feel good, but actually I was not feeling well since the two days ago. I start to think about that I'm 30, and I don't have much time left to play on tour and all this bad things.
"And it was really tough mentally to play, and at the end my body was just not listening to me. And the only thing that I wanted to do is to finish and quit that match. But you know always being a tennis player, at some point you think no, no, no. I'm going to fight. And this is exactly what happened.
"Yeah, it was a really tough match for me, probably the toughest one ever."
-- Lesia Tsurenko opens up after a challenging birthday, saving match point during her gruelling 5-7, 7-5, 11-9 two-day victory over Aleksandra Krunic.
"I think he's been playing very good these couple weeks, and for me he has best backhand on the tour, a beautiful backhand. I got to be really careful with that."
-- Nishikori full of praise for next opponent Paire.
"Well, I did a little in secret. No, just kidding (smiling). I have been living already for almost four years in Switzerland in the French part, and I have, for a long time also, have on my team my trainer, is French, and my coach, as well. So I guess it's now or never (smiling).
"Yeah, I'm putting the work in, and obviously I have a chance to speak here. I don't want to miss it."
2016 Roland-Garros champion Muguruza is taking her chance to practice her language skills.
Reporter: "You don't understand the seedings? Sloane Stephens: "No, I thought that when you played -- it's a long story, but anyways, yeah." Reporter: "We have time." Sloane Stephens: "No, we don't. I actually don't. I have a dinner reservation. (Laughter.) The next time, we can talk about it."
-- 2018 finalist Stephens was in a hurry after completely he hard-fought victory on Friday.